[Flashback Episode 45] Do Not Go To That Stranger In The Park
This week on the Min/Max Podcast we're doing some of our listeners playing catch-up a favor and reposting our first episode with Neysha Campbell. She's one of our favorite guests, and we look forward to having her on again for an episode coming up in a week!
4 months ago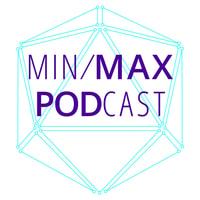 Shownotes
Allen, Ashley and Kyle welcome LaNeysha Campbell to discuss the Fate anime series and its interesting intersection with areas of the Christian canon.
Fate Stay/Night: Unlimited Bladeworks
Things Fall Apart by Chinua Achebe
Connect, subscribe, and follow us on the following platforms!
Min-Max Hotline 773-789-9369
Intro music by RoccoW is licensed under a Attribution-ShareAlike License. Modification: Clipped down to make Intro and Outro Bumpers.
This podcast is powered by Pinecast. Try Pinecast for free, forever, no credit card required. If you decide to upgrade, use coupon code r-6a94a2 for 40% off for 4 months, and support Min-Max Podcast.